Jeffrey Archer's third book in his pentalogy/quintology/quintet (you choose), the Clifton Chronicles, will be released in March. It's titled "Best Kept Secret", and the CD will be available the following month.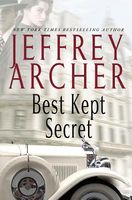 According to The Bookseller, in the first ten days, the second book "
The Sins of the Father"
sold 170% more than the first in the series "
Only Time Will Tell"
sold in its first six weeks. According to Jeffrey "When you're actually writing the third book, news like this is both inspiring and demanding - in equal measure."
We wait...